Fun with inflatable slides all year round
Winter is approaching, and the temperature is getting lower and lower. Both the south and the north feel the cold brought by winter. But should the cold be shrunk in the bed, and soon the winter holiday is coming, of course, there must be a good place to play. Inflatable slides are not afraid of changing seasons, so you can play and play all year long.
Although it is cold, the inflatable slide is not affected. Inflatable slides can be used indoors and outdoors, and many malls can see inflatable slides. Moreover, unlike the traditional amusement slides, the inflatable slides have good cushioning properties and can fully guarantee the safety of tourists. Children can play while playing indoor inflatable slides, don't worry about getting cold and don't worry about wrestling and injury, you can fully enjoy the fun of playing.
The inflatable slides are evolved from traditional land slides, climbing on the slides, and on the other side are different planes of straight, waves, spirals, etc. Compared with the slide of FRP material of inconvenient to move, non-foldable, inconvenient to store, special person to install, large occupied area, inconvenient maintenance and so on. The advantages of the inflatable slides are outstanding. After being deflated, it can be folded, convenient to retract, easy to move, small in occupation area, convenient to maintain, and more suitable for market demand.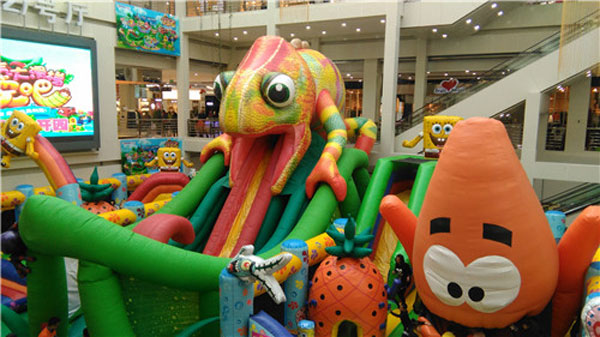 Inflatable slides can also be combined with many other projects to allow visitors to have more play items to experience and create more fun. For example, the recent popular ocean ball, combined with the inflatable slide is very interesting, tourists are directly into the ocean ball from the slide, it is fun. Inflatable slides can also be combined with bouncy castles, which are not only more fun to play but also more attractive in appearance.