Introduction

Inflatable snow dome
This Inflatable snow dome brings the mageic and merriment of treasured snow globes right to your fingertips. Inflatable snow dome suitable for any age, allows the entire family to experience real quality family fun like no other. It truly is something different, unique and a great attention grabber!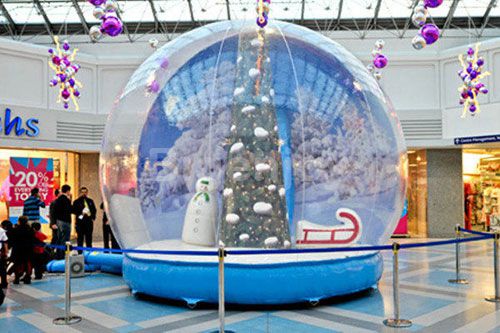 1. Material: 1.0mm transparent pvc for the above show ball with continue air blower, 0.9mm pvc tarpaulin for the airtight foundation
2. Color: same as picture, Custom Designs available for different shape, size, colour, logo printings, etc.
3. Package: Each packed by OPP bag and standard export packing
4. Applicable temperature: -30°C—70°C
5. Print: All kinds of logo is available
6. Accessory: Repair kit and a CE air blower
7. Technique: Exclusive heat sealing machine for heat sealed products
8. Warranty: 2 years


The snow globe sustains air from a hidden blower system underneath the floor of the unit that continuously supplies air pressure and inflates the globe. In addition, the snow globe is divided into two sections split by a special nackdrop curtain. The front section, or main globe, this area can be staged for the ultimate winter wonderland. Behind the curtain is the actual air chamber and is the transitional space where patrons enter and exit from. Once the entry point is secured, patrons enter the main globe througha special zipped door on the backdrop. The twin airlock chamber system allows for no deflation or pressurizing of the snow globe when entering or exiting.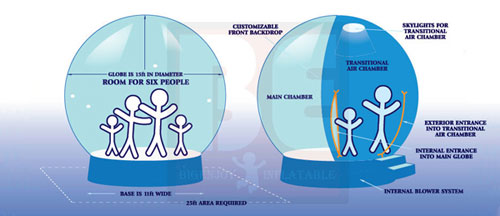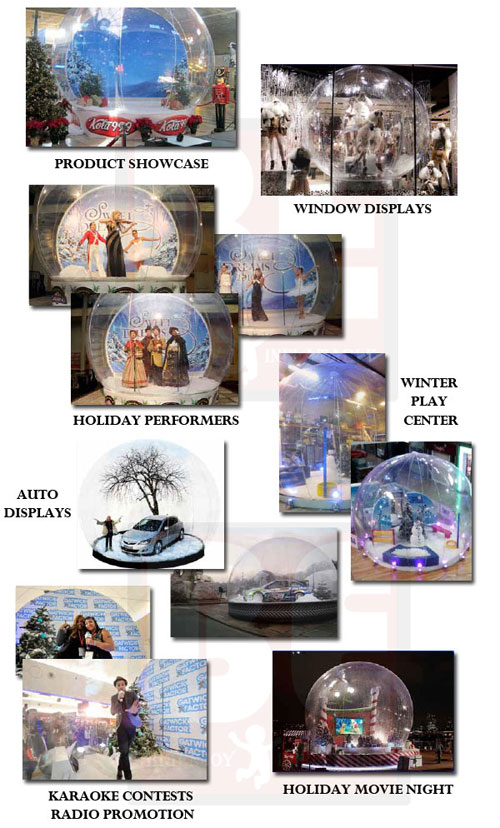 More Products